PÖDÖR at the 2017. ANUGA FAIR
Oil press demonstration, product novelties and a 3 Michelin-star chef!
Come and see our exhibition stand!  The Pödör company will present its excellent, premium quality oils and vinegars at Anuga, the leading food fair of the world, to be organized between 7th and 11th October 2017 in Cologne, Germany.  One of the highlights of our stand is an authentic, mechanical oil press, to demonstrate the tricks of trade in making our cold pressed oils. 
By the end of the pressing process, the seeds will have transformed into gently shining, temptingly fragrant oil, capable of lending an exquisite taste to any kind of food. The PÖDÖR company -manufacturer of excellent quality oils and vinegars – will show you this magic and mysterious transformation – live! – with the help of a mobile oil press developed and brought to Cologne by us specifically for this purpose. Don't miss this unique opportunity!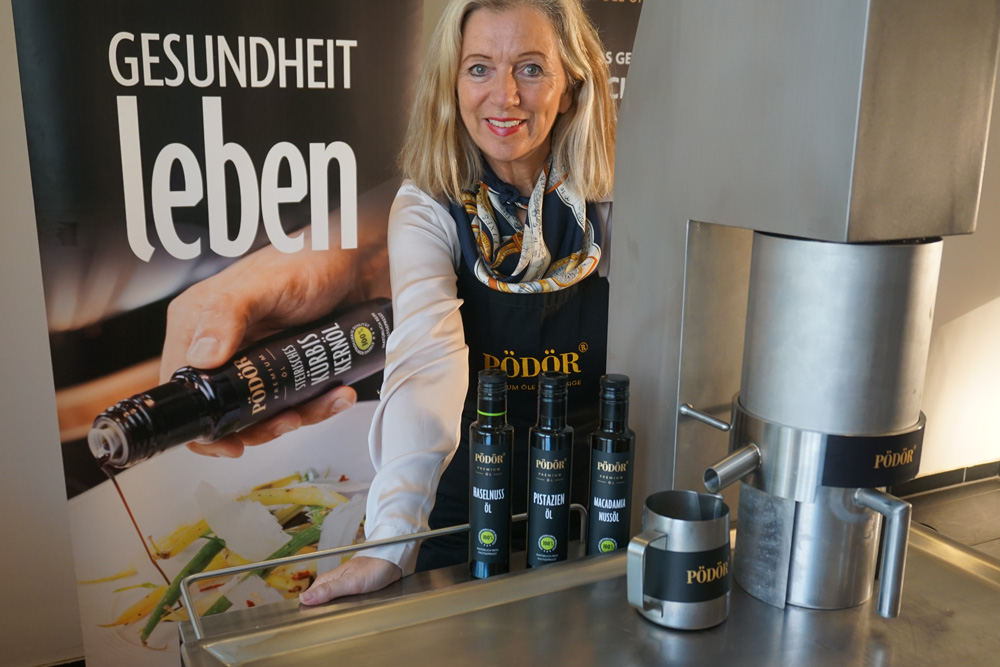 Come and see us in Hall 10.2 at Stand D055.!
Gourmets and master chefs work exclusively with premium quality cold pressed oils to lend exquisite flavors to their food creations. PÖDÖR, the premium manufacturer of top quality oils, is well known and reputed in their circles. To further strengthen this reputation, we make a point of hosting various representatives of the catering industry and commerce as well as all and any of the guests of the Anuga Food Fair, where we will introduce a mobile mechanical oil press. We have developed this unique machine patterned after the big industrial pressing machines, for the specific purpose of demonstrating for our visitors the pressing process through which our valuable oils are extracted. 


A 3 Michelin-star Chef!
On October 8, Sunday, you can take advantage of the opportunity to meet in person Thomas Bühner, our culinary partner, who is one of the finest master chefs of the world, the 3 Michelin-star chef of the "la vie" restaurant in Osnabrück. As the "ambassador" of the PÖDÖR brand, he will give you an insight into the world of gastronomy as well as an account of his experiences gained while using PÖDÖR' superior quality products, in his presentation titled From seeds to 3 Michelin-star delight.

PÖDÖR Premium oils and vinegars Anuga 2017.
Oct.7-11 2017. 
Taste the Future
Koelnmesse GmBH
Messeplatz 1
50679 Köln (Cologne)
Germany
Hall 10.2
Stand D055